Tickets now on sale for a celebration of talent in musical theatre, dance, singing and comedy where we take down the barriers around neurodivergency.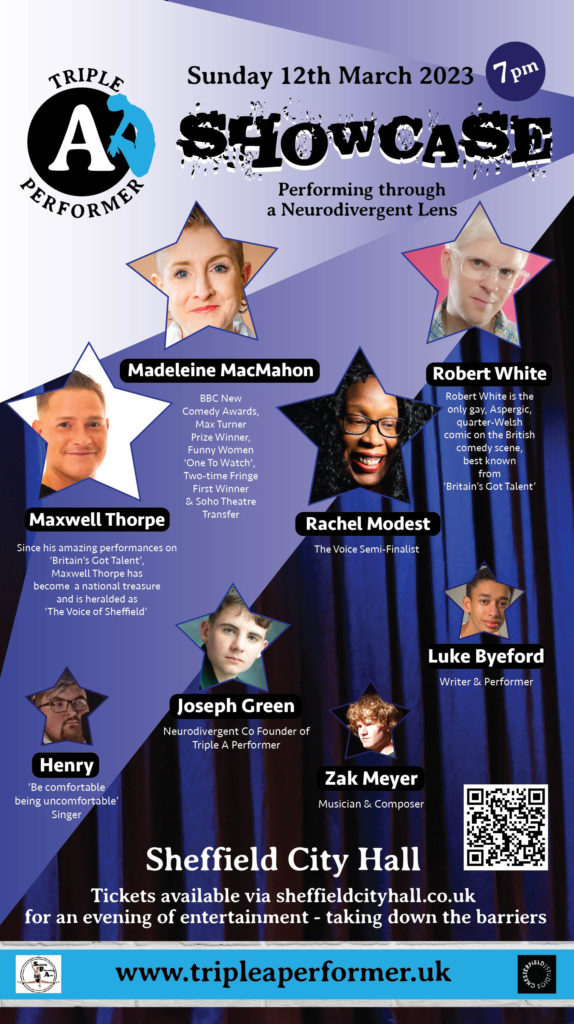 We would love for you to join us at Sheffield City Hall on Sunday 12th March 2023 for an evening of musical theatre, dance, singing and comedy that will transport you through the emotional journey experienced by many neurodivergent artists as they establish their foothold in the industry. Learn first-hand the pitfalls faced and how we can work together to make the industry more accessible.
Taking place on the eve of the start of Neurodiversity Celebration Week (13th to 19th March 2023), this promises to be an evening that will leave you feeling exhilarated by the sheer amount of diverse talent on show.
With Madeleine MacMahon as our compere for the evening, we are thrilled to be able to entertain you with talent from ITV's 'Britain's Got Talent' – Maxwell Thorpe and Robert White – as well as from ITV's 'The Voice', Rachel Modest. We have some incredible performances lined up too from Henry, Zak Meyer and Luke Byeford. Joseph Green, our co-founder, will be helping to give an insight into Triple A Performer as well as singing and performing for your enjoyment. We are honoured to have Sheffield Performing Arts (SPA) and Chesterfield Studios support our showcase with their very talented musical theatre and dance students.
All profits from our showcase event will go back to our charity to enable us to continue doing valued work within the sector.
Tickets available here. We really look forward to sharing our evening of talent with you!
For more information on our charity, please take a look at our website.